Natural gas futures extend rally to 5-month high on warm June weather
What's in the News!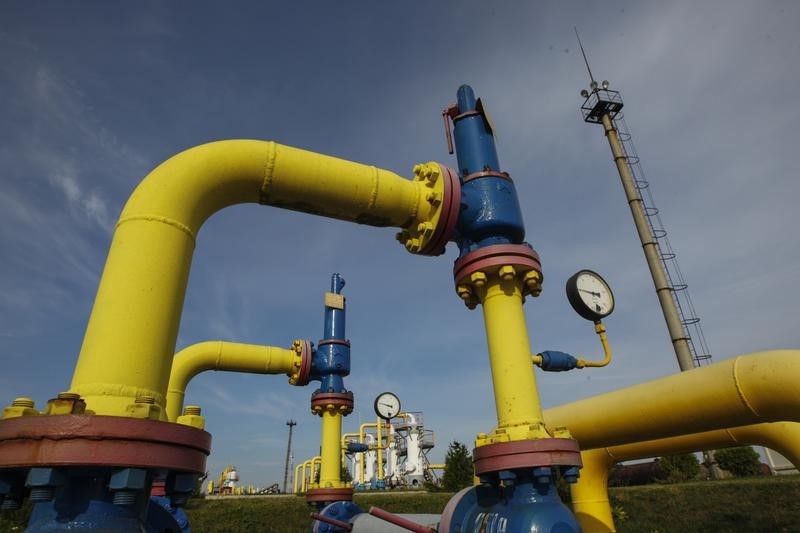 © Reuters. Natural gas futures extend rally to 5-month high
Investing.com - U.S. natural gas futures rallied for the third straight session on Wednesday, climbing to a five-month high as forecasts for the first two weeks of June pointed to intense heat, boosting near-term demand expectations.
Demand for natural gas tends to rise in the summer months as warmer temperatures increase the need for gas-fired electricity to power air conditioning.
Natural gas for delivery in July on the New York Mercantile Exchange rose to an intraday peak of $2.364 per million British thermal units, the most since January 12. It last stood at $2.355 by 13:35GMT, or 9:35AM ET, up 6.7 cents, or 2.93%.
A day earlier, prices spiked 11.9 cents, or 5.49%, after updated weather forecasting models showed that temperatures across the central and southern U.S. will be above normal through June 14.
Natural gas prices have closely tracked weather forecasts in recent weeks, as traders try to gauge the impact of shifting outlooks on early summer cooling demand.
Gas use typically hits a seasonal low with spring's mild temperatures, before warmer weather increases demand for gas-fired electricity generation to power air conditioning.
Meanwhile, traders looked ahead to fresh weekly information on U.S. gas inventories to gauge the strength of demand for the fuel.
The U.S. Energy Information Administration's storage report slated for release on Thursday is expected to show a build of approximately 84 billion cubic feet for the week ending May 27.
That compares with a gain of 71 billion cubic feet in the prior week and a five-year average increase of around 98 billion cubic feet.
Total U.S. natural gas storage stood at 2.8 trillion cubic feet as of last week, according to the U.S. Energy Information Administration, 37% higher than levels at this time a year ago and above the five-year average for this time of year.
Unless intense summer heat boosts demand from power plants, stockpiles will test physical storage limits of 4.3 trillion cubic feet at the end of October.
Elsewhere on the Nymex, crude oil for delivery in July dropped $1.16, or 2.36%, to trade at $47.94 a barrel, while heating oil for July delivery tumbled 1.8% to trade at $1.470 per gallon.
View all news articles